Grandview Hosiery, LLC
About Grandview Hosiery (Moretz Mills)
At Grandview Hosiery we didn't invent socks, but we've been pushing the bar of innovation throughout our history. And the best part? We will never stop re-inventing.
In an industry where sock companies are now often started by marketing people looking to capitalize on something trendy, ours is a different story.
We're sock people and we're proud of it. It began in 1946 when C. Hugh Moretz founded Grandview Hosiery in the foothills of North Carolina, with a focus on quality, comfort, durability and innovation.
A LEGACY OF SUCCESS. A PASSION FOR INNOVATION.
Over time, our hosiery company grew to be a national powerhouse led by the founder's son, John Moretz and dominating the athletic sock market with the wildly popular PowerSox – considered the top performance sock in America by the 1990s. For athletes who cared about their feet, this was the greatest sock of it's time.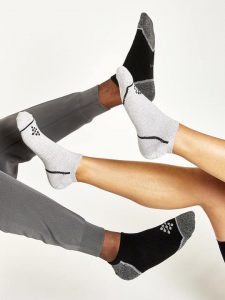 BUT WE KEPT IMAGINING. AND IMPROVING AND INNOVATING.

The company grew, becoming a global leader in sourcing, manufacturing and marketing with owned brands such as iconic Gold Toe® sock, as well as a licensed portfolio of brands that included Under Armour®, New Balance®, Rawlings®, Coleman®, NASCAR®, and kathy ireland® Worldwide. Soon, our extended family included Hall
of Fame athletes such as Kareem Abdul Jabbar, John Elway and Ronnie Lott.
WE DIDN'T STOP THERE.
Now, after years of research, development and testing, we introduce our TRUEENERGY® Infrared Technology socks.  Inspired by NASA scientific research, we utilize infrared nano-particles blended into our yarn.  This groundbreaking technology unleashes even more benefits for your feet. Helping to improve circulation and recovery.  With less swelling and pain.  More energy and support.
AFTER 75 YEARS, OUR CRAFTSMANSHIP AND EXPERIENCE REMAIN UNRIVALED.
We're still in the foothills of North Carolina. And while our technology and expertise is world-class, some things haven't changed. Our popular new socks delight a new generation of loyal fans, but our mission stays the same: quality, comfort, durability and innovation. It's who we are and what we do.
VISIT US.

Grandview Hosiery is headquartered in Hickory, North Carolina. For more information, please contact Angela Drum at 828-322-7310 ext. 201 or via email at angela@moretzmarketing.com.